4 Things Parents Should Know about Paws of Fury: The Legend of Hank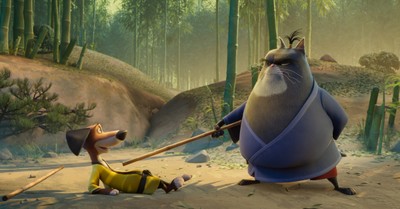 By Michael Foust, Crosswalk.com
Hank is an energetic, lovable dog who is training to become a samurai.
The problem? He's horrible at it. Cats – as everyone knows – are the best samurai. In fact, Hank is the only dog in his samurai class.
"As if a dog could ever become a samurai – never," says Ika Chu, the country's evil leader.
But then Hank gets caught up in Ika Chu's twisted plan. Ika Chu will send Hank to be the samurai of Kakamucho, a village of cats that Ika Chu wants wiped off the map. The villagers will turn on Hank – he's a dog, after all – and then Ika Chu's army will destroy the village for killing a samurai. At least, that's Ika Chu's plan.
Can Hank quickly learn the ancient art of the samurai? And can he win the affection of the villagers?
The new animated film Paws of Fury: The Legend of Hank (PG) tells the story of Hank, Ika Chu and Jimbo, the ex-samurai who trains Hank.
Here are four things parents should know about the film:
Photo courtesy: ©Paramount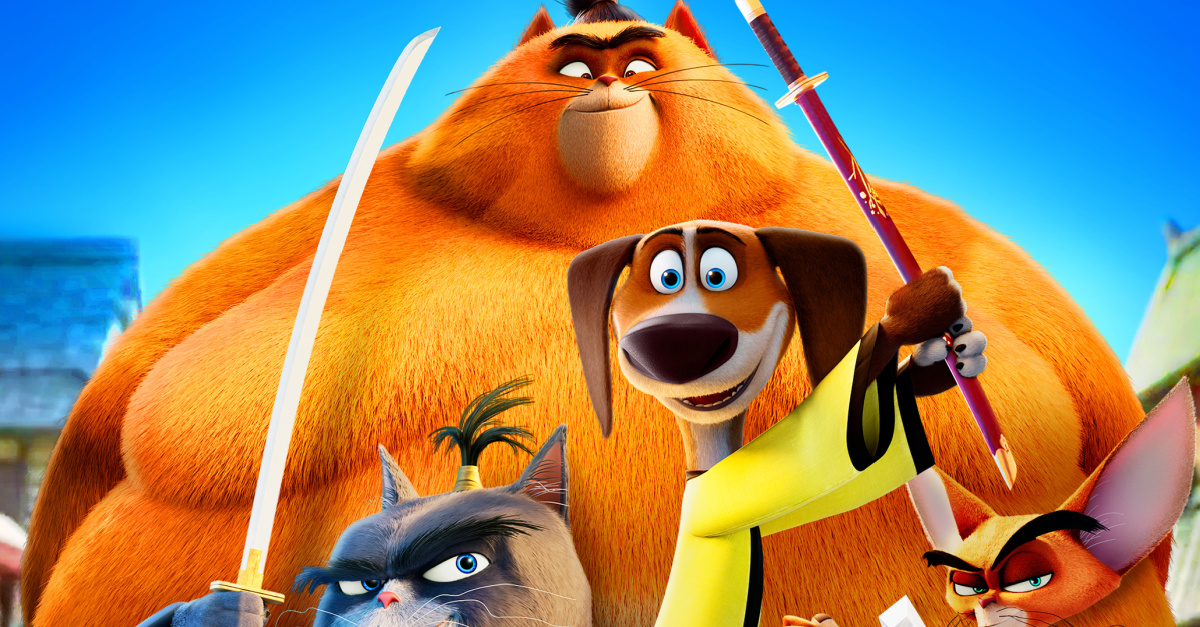 1. It's a Kid-Friendly Spoof
Paws of Fury is a parody/spoof along the lines of Blazing Saddles (1974), Airplane! (1980), Spaceballs (1987) and Austin Powers (1997). (It supposedly is loosely based on Blazing Saddles.)
Yet while those live-action films were filled with mature content, Paws of Fury stays (mostly) in the family-friendly realm. It's a film that makes fun of the genre (in this case, Westerns and martial arts films) while making fun of itself ("this movie is only 85 minutes long," one character says in the film, emphasizing the need to speed up the plot.)
It's the type of comedy that will appeal to lovers of dad jokes. That is, the kids, moms and dads who embrace such corny silliness. For example:
The evil ruler Ika Chu boasts that he built a grand palace with a state-of-the-art bathroom and monstrous toilet. He calls this toilet the "Super Bowl."
Jimbo looks back, wistfully, to the highs and lows of his life before being offered a film projector by Hank: Projectors "really bring things to light" during flashbacks," Hank says.
Hank wears his sword backward. Jimbo saddles a horse backward. In the film's film moments, Ika Chu borrows a line from Empire Strikes Back and tells Hank, "I am your father" – only to admit, seconds later, that he was joking.
I laughed alongside my tween son from beginning to end. But if spoof humor isn't your thing, then you better skip this one.
Photo courtesy: ©Paramount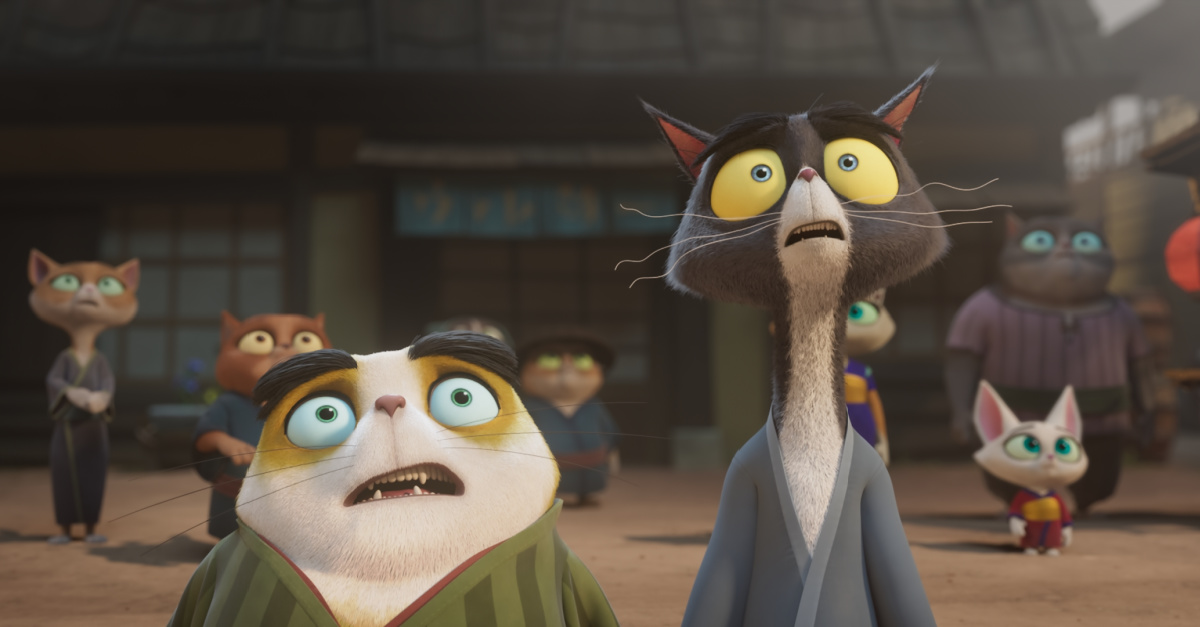 2. It Features Samuel L. Jackson and Mel Brooks
Paws of Fury includes an impressive lineup of voices, led by Samuel L. Jackson as Jimbo, a cat and former samurai who trains Hank. (Jackson has voiced other animated films in recent years, including Frozone in The Incredibles series and Whiplash in Turbo.)
Mel Brooks, who at age 96 is still going strong, voices the Shogun – the mysterious figure who Ika Chu is trying to impress. (Ika Chu wants to be the Shogun's successor.) Brooks, of course, starred in 1974's Blazing Saddles yet has found a niche in recent years in the animated realm, voicing characters in the Hotel Transylvania films, Toy Story 4, Leap! and Mr. Peabody and Sherman.
The film also stars George Takei (Star Trek), Ricky Gervais (Night at the Museum), Michelle Yeoh (Crazy Rich Asians) and Djimon Hounsou (Guardians of the Galaxy).
Photo courtesy: ©Paramount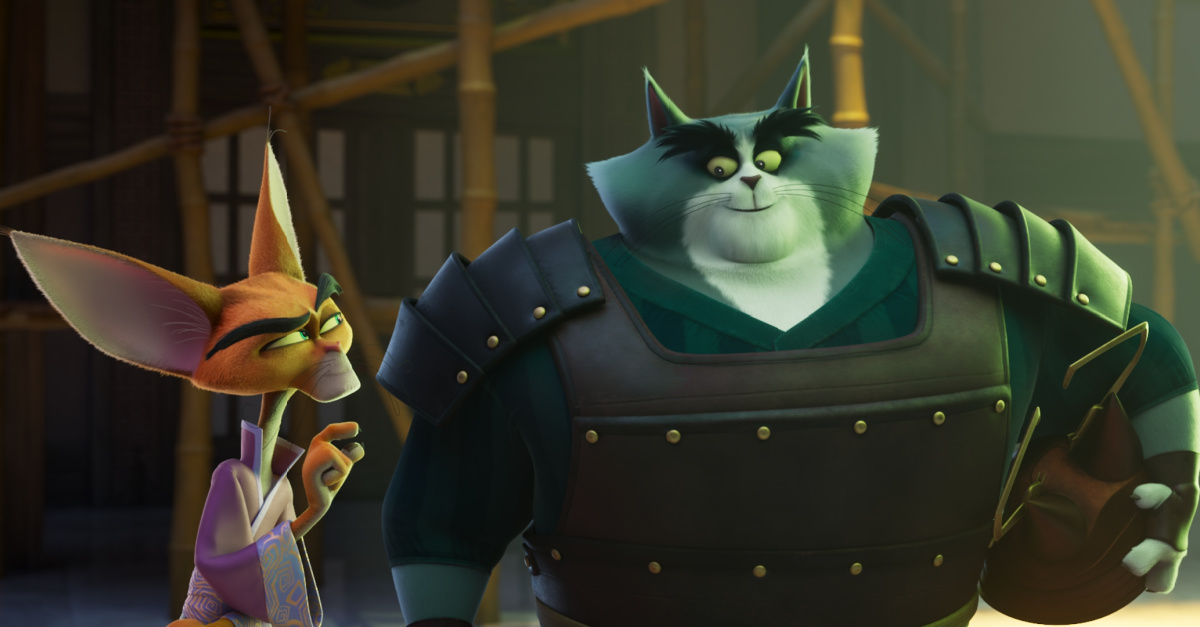 3. It's a Lesson on Racism
Paws of Fury smartly uses the hate-filled rivalry between dogs and cats in order to teach moviegoers a lesson about loving others – specifically, loving those who look different.
Much of this lesson involves humor. Hearing a co-worker question why they have grown to hate dogs, another cat responds, "My dad hated dogs, and that's good enough for me. It's not really based on logic." When a cat-mom learns her youngster touched Hank, she orders her family to use hand sanitizer. When Ika Chu hears that the cat villagers did not eliminate Hank – which was his goal – he complains that "upright citizens" no longer can be counted on to kill someone when they "look different."
Fortunately, both sides make peace before the movie ends, thanks in part to a friendship between Hank and a young cat.
"We have to find a way beyond judging each other strictly on labels like dog and cat," Hank says. "... We can all be better, together."
The film also contains messages about selflessness (Hanks grows too cocky), loving your enemy (Hank does that) and second chances (Jimbo gets one).
Photo courtesy: ©Paramount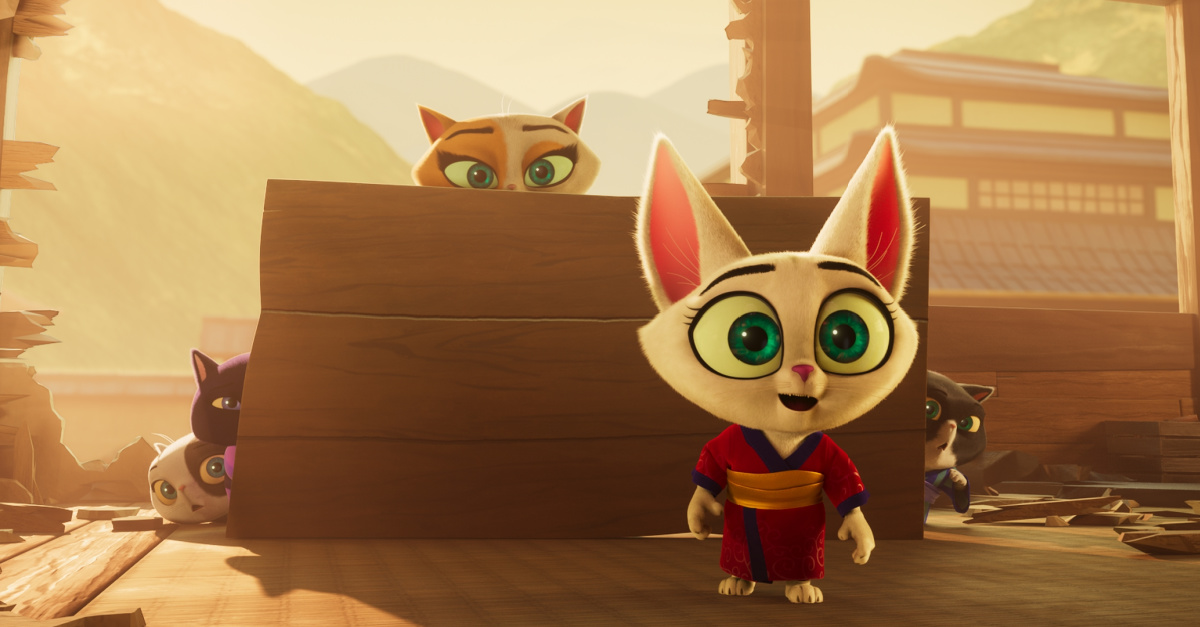 4. It's Better than the Trailer
Have you ever noticed how studios fit nearly every questionable scene from an animated film – the potty humor, the borderline swear words – into the trailer? That's certainly the case with the Paws of Fury trailer, which shows a massive sumo (cat) wrestler plucking Hank out of his large posterior. We also hear Jimbo say, "what the mother father cocker spaniel is going on here?" Both of those scenes are indeed in the film, but, thankfully, those are the worst ones.
For parents, the film is better than the trailer, even if it does have some potty humor (we see explosions caused by flatulence and, elsewhere, a cat sitting on a rock – instead of the toilet – while reading the newspaper). It contains no coarse language (minus the one already mentioned, the phrase "what the flush" during a toilet scene, and a sprinkling of words like "butt" and "idiot"). Still, it's worth noting that the MPAA ratings board gave it a PG in part for "some language" – a reference to the pushing of the envelope. The violence stays in the Looney Tunes realm.
If you can overlook the film's few speed bumps, Paws of Fury is a fun film with a solid message.
Paws of Fury is rated PG for action, violence, rude and suggestive humor, and some language.
Entertainment rating: 3.5 out of 5 stars.
Family-friendly rating: 4 out of 5 stars.
Photo courtesy: ©Paramount
---
Michael Foust has covered the intersection of faith and news for 20 years. His stories have appeared in Baptist Press, Christianity Today, The Christian Post, the Leaf-Chronicle, the Toronto Star and the Knoxville News-Sentinel.