Kelly Clarkson Sings 'Rescue' By Lauren Daigle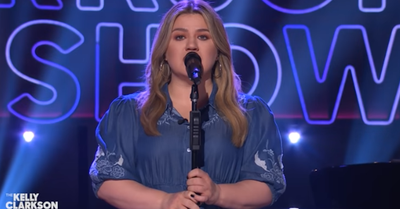 Crosswalk.com
The appeal of this song reminds us that no matter what we have done, no matter how broken we may feel, God will continue to come after us and love us with his redeeming, unconditional love. She wanted a song that conveyed how God is always fighting us.
The song's lyrics remind us how we aren't hidden, we aren't forgotten, and we aren't without hope. They share the message of how God hears the S.O.S. cries of our souls and will send out an army to find us even in the middle of the darkest night.
When Kelly opted to sing this song on her show, the audience was stunned by her emotional and pitch-perfect performance. Kelly has also never shied away from sharing her faith on her daytime talk show and it's easy to see how God is on the move, even in Hollywood. And what a beautiful way to reach others for Christ.
One viewer had never heard the song before and posted, "First time hearing that song and already goosebumps and welling up with tears. My goodness, Kelly... You are amazing."
Another commented, "Oh my Gosh this is so amazing Kelly thank you for always inspiring us. Always know that you are loved in every part of other countries… May you continue with that spirit to inspire more and more people."
I couldn't agree more that Kelly has a beautiful voice and a gift of sharing her faith in God. This performance touched many hearts and no doubt, healed a few souls too as the song reminds us, God will rescue us from our biggest fears, our darkest nights, and he will restore us with His redeeming love. What a beautiful reminder God is always for us.
Psalms 18:2 "The LORD is my rock, and my fortress, and my deliverer; my God, my strength, in whom I will trust; my buckler, and the horn of my salvation, and my high tower."
Photo credit: ©IndependentMusiciansFoundation/TheKellyClarksonShow