Daily in Your Presence - Aug. 17
Crosswalk.com

Day 230

ATONING SACRIFICE


This is love: not that we loved God,
but that he loved us and sent his Son
as an atoning sacrifice for our sins.
FROM THE FATHER'S HEART
My child, when the high priest entered the holy of holies, he would make atonement for the sins of the nation. Once a year, the blood-sprinkled altar would testify to the atoning of sin. But I became the atoning sacrifice for all time—the once and for all lamb offered on your behalf for your sins so you could have life. I loved you first—so that you could love Me back. But even if you didn't, I'd still love you. I'd still die for you.
A GRATEFUL RESPONSE
Where once was offered a lamb or a goat, a sacrifice needed for sin, You became the atoning sacrifice. Your blood, shed on the cross, covered my sin forever. You were the sweet sacrifice, poured out with love, so that I could find a home in the heart of God.
SIMPLE TRUTH
To find God, let your heart do the walking.
For more from Rebecca, please visit www.rebeccabarlowjordan.com
To sign up for Rebecca's new encouraging blog/newsletter, or to purchase her newest devotional books from Zondervan
- Day-votions™ for Women, Day-votions™ for Mothers, and Day-votions™ for Grandmothers -
please click here.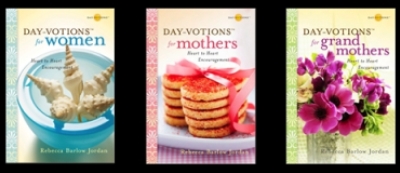 ©2002, Rebecca Barlow Jordan, Daily In Your Presence, Used by Permission, All Rights Reserved