Daily in Your Presence - Aug. 8
Crosswalk.com

Day 221

SEEKER OF THE LOST


"For the Son of Man came to seek
and to save what was lost."
FROM THE FATHER'S HEART
My child, I love all My "sheep" the same. But if you strayed outside the gate, do you know what I would do? I would make sure the other sheep were secure for the night, and I would come after you. I would leave no stone unturned, no bush unsearched until I found you, folded you in My arms, and carried you back home where you belong. There are lost sheep all around you. Will you help Me find them and love them, too?
A GRATEFUL RESPONSE
I have been that lost coin, and I have also been the one sheep out of one hundred You found wandering outside the fold. You didn't write me off, kick me out, or lock the gate. You are a seeker of the lost. I'm so glad You looked for me and found me. Thank You for bringing me into Your fold.
SIMPLE TRUTH
While 10 percent loss of customers won't make or break most businesses, God spares no expense in trying to recover even one lost customer.
For more from Rebecca, please visit www.rebeccabarlowjordan.com
To sign up for Rebecca's new encouraging blog/newsletter, or to purchase her newest devotional books from Zondervan
- Day-votions™ for Women, Day-votions™ for Mothers, and Day-votions™ for Grandmothers -
please click here.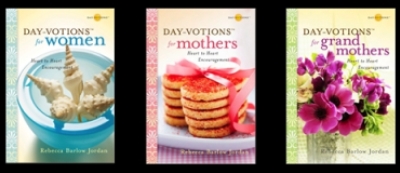 ©2002, Rebecca Barlow Jordan, Daily In Your Presence, Used by Permission, All Rights Reserved