Light of the World - Daily in Your Presence - Feb. 1
Crosswalk.com

Day 32

LIGHT OF THE WORLD
 
"I am the light of the world.
Whoever follows me will never walk in darkness,
but will have the light of life."
John 8:12
FROM THE FATHER'S HEART
My child, have you ever stumbled through the dark in the middle of the night? Why would you choose to go through life the same way?  I will be your flashlight, giving you only as much light as you need for the moment. Stop living in the dark. Turn on the light.
A GRATEFUL RESPONSE
Wherever I go, You are a light by day and a beacon by night, shining brightly to point me to shore. There is no place too dark for Your light to shine and no corner too remote. Like sunshine on a cloudy day, You burst forth with radiance. You are my sunshine, Lord.
SIMPLE TRUTH
Just like a hallowed, shining star, His light bids us follow Him, wherever we are.
For more from Rebecca, please visit www.rebeccabarlowjordan.com
Sign up for Rebecca's encouraging blog/newsletter, or purchase her newest devotional books from Zondervan
- Day-votions™ for Women, Day-votions™ for Mothers, and Day-votions™ for Grandmothers.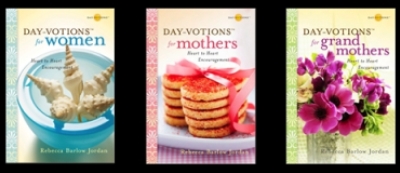 ©2002, Rebecca Barlow Jordan, Daily In Your Presence, Used by Permission, All Rights Reserved