Awesomeness - Daily in Your Presence - Jan. 30
Crosswalk.com

Day 30

AWESOMENESS
 
For who in the skies above
can compare with the Lord?
he is more awesome than all who surround him.
Psalm 89:6-7
FROM THE FATHER'S HEART
My child, are you struggling with the rigors of life's existence? Turn to Me. Is there a problem you don't understand? Let Me help. Look around My world. Would someone who created the mysteries of the universe abandon you without a clue? Your welfare is My business!
A GRATEFUL RESPONSE
Scientists and archaeologists marvel at heaven and earth's mysteries. All the genius of human inventions cannot compare to the creativity of Your hands. The birth of an infant, the design of the snowflake, and the intricacy of the human body are all too marvelous to comprehend. O God, You are awesome.
SIMPLE TRUTH
The beauty of a golden sunset is God's "Amen" to a perfect day
For more from Rebecca, please visit www.rebeccabarlowjordan.com
Sign up for Rebecca's encouraging blog/newsletter, or purchase her newest devotional books from Zondervan
- Day-votions™ for Women, Day-votions™ for Mothers, and Day-votions™ for Grandmothers.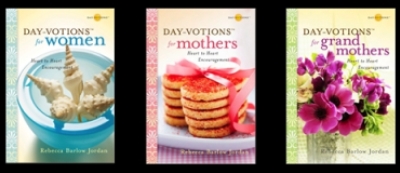 ©2002, Rebecca Barlow Jordan, Daily In Your Presence, Used by Permission, All Rights Reserved