Daily in Your Presence - June 1
Crosswalk.com

Day 153

GOD OF RETRIBUTION


For the Lord is a God of retribution;
he will repay in full.
Jeremiah 51:56
FROM THE FATHER'S HEART
My child, never let bitterness take root in your heart. When you feel angry, come to Me, and let's talk about it. Don't take it out on someone else. Untreated, bitterness can eat at you and grow like a cancer throughout your system. Instead, empty your garbage at My feet, and let Me take care of your enemies. I am the God of retribution, not you.
A GRATEFUL RESPONSE
Although revenge may seem sweet, it will only sour my heart and stifle my life. You know how to deal with my enemies better than I, Lord. You never overlook sin or injustice, and You are always watching out for Your own. You are the God of retribution; vengeance is Yours.
SIMPLE TRUTH
Render unto God the vengeance that belongs to God.
For more from Rebecca, please visit www.rebeccabarlowjordan.com
To sign up for Rebecca's new encouraging blog/newsletter, or to purchase her newest devotional books from Zondervan
- Day-votions™ for Women, Day-votions™ for Mothers, and Day-votions™ for Grandmothers - 
please click here.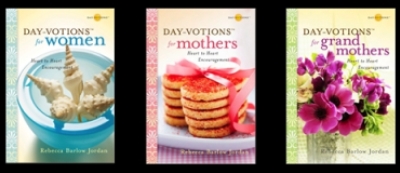 ©2002, Rebecca Barlow Jordan, Daily In Your Presence, Used by Permission, All Rights Reserved