Daily in Your Presence - June 2
Crosswalk.com

Day 154

ANTICIPATION


"I am going there to prepare a place for you. . . .
I will come back and take you to be with me
that you also may be where I am."
John 14:2-3
FROM THE FATHER'S HEART
My child, I'm so excited about your new forever room. You're going to love it. As long as I keep you here on earth to bring Me glory, we will work on the rooms of your heart together. But in the meantime, My anticipation grows for the time when I'll unveil your final home. It's so beautiful - you won't believe it!
A GRATEFUL RESPONSE
Have You really prepared a place for me, Lord? Do You have room in Your mansions for one like me? You wait there with anticipation until the time You call me to join Your presence. How precious that You care so much! Lord, I'm coming home to You soon.
SIMPLE TRUTH
God spares no expense to add on more rooms to His house.
For more from Rebecca, please visit www.rebeccabarlowjordan.com
To sign up for Rebecca's new encouraging blog/newsletter, or to purchase her newest devotional books from Zondervan
- Day-votions™ for Women, Day-votions™ for Mothers, and Day-votions™ for Grandmothers - 
please click here.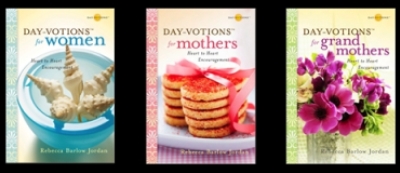 ©2002, Rebecca Barlow Jordan, Daily In Your Presence, Used by Permission, All Rights Reserved