Daily in Your Presence - June 4
Crosswalk.com

Day 156

TEACHER


"You call me 'Teacher' and 'Lord,' and rightly so,
for that is what I am. . . . I have set you an example."
John 13:13-15
FROM THE FATHER'S HEART
My child, don't worry about what you don't know. Knowledge is what you learn from a textbook; wisdom is what comes from My Father.  My Spirit will be your teacher when you enroll in My lifelong school of learning. As a diligent student, do your homework well simply because you love Me. With Me, class is never out. I will be faithful to teach you daily.
A GRATEFUL RESPONSE
Lord, all the degrees of higher learning could not teach me what You can. You are knowledge itself. You are my teacher, and from You come the wisdom and application for right and joyful living. With the heart of a servant, You set an example. Lord, I want to sit at Your feet daily.
SIMPLE TRUTH
Character was never built — or taught — in a day.
For more from Rebecca, please visit www.rebeccabarlowjordan.com
To sign up for Rebecca's new encouraging blog/newsletter, or to purchase her newest devotional books from Zondervan
- Day-votions™ for Women, Day-votions™ for Mothers, and Day-votions™ for Grandmothers - 
please click here.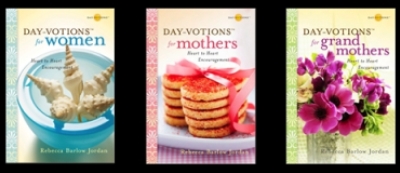 ©2002, Rebecca Barlow Jordan, Daily In Your Presence, Used by Permission, All Rights Reserved