Daily in Your Presence - March 21
Crosswalk.com

Day 80

HOME

"My Father will love him,
and we will come to him and make our home with him."
John 14:23
FROM THE FATHER'S HEART
My child, everyone needs a place to belong, a place to fit in. Sometimes you try so hard—and in all the wrong places. Don't you know that you already have a special place in My heart? Here with Me is home, a place where you will always find acceptance as My child. You have access to all the rooms. Enjoy My fellowship daily.
A GRATEFUL RESPONSE
Lord, how special it is to be part of Your family! Where else can I find a sense of belonging and a shelter for love? Where else can I find acceptance, just the way I am? You, my Father, give me a place of refuge, a place I can be myself, a place I can really call "home."
SIMPLE TRUTH
We're always at home in the Father's heart.
For more from Rebecca, please visit www.rebeccabarlowjordan.com
To sign up for Rebecca's new encouraging blog/newsletter, or to purchase her newest devotional books from Zondervan
- Day-votions™ for Women, Day-votions™ for Mothers, and Day-votions™ for Grandmothers -
please click here.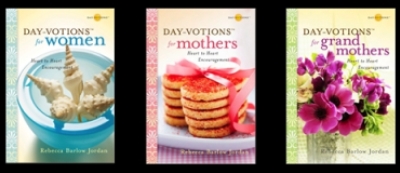 ©2002, Rebecca Barlow Jordan, Daily In Your Presence, Used by Permission, All Rights Reserved