Daily in Your Presence - March 22
Crosswalk.com

Day 81

KING OF KINGS

On his robe and on his thigh he has this name written:
king of kings and lord of lords.
Revelation 19:16
FROM THE FATHER'S HEART
My child, all authority and power have been given to Me by My Father. And one day you will share My glory and in-herit all the throne privileges of My royal throne forever. Even now, as My child, you may approach the throne, day or night, and the King of kings will welcome your request. One day, every knee will bow and every tongue will delight in confessing Me as you do—as King of kings and Lord of lords.
A GRATEFUL RESPONSE
Lord, no gifts or tokens of my love could ever be enough for You, the King of kings. You never leave me standing on the front porch of Your heart. You extend Your royal scepter, and to my heart You say, "Come"—into Your very throne room! Your royal decree of love can never be reversed—I am Your child forever. I worship You as King of my heart and Lord of my life.
SIMPLE TRUTH
My home is His castle, and my heart is His home; my worship belongs to the King alone.
For more from Rebecca, please visit www.rebeccabarlowjordan.com
To sign up for Rebecca's new encouraging blog/newsletter, or to purchase her newest devotional books from Zondervan
- Day-votions™ for Women, Day-votions™ for Mothers, and Day-votions™ for Grandmothers -
please click here.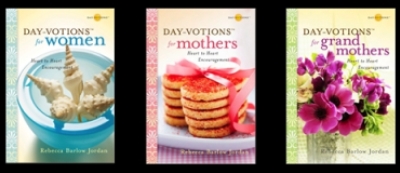 ©2002, Rebecca Barlow Jordan, Daily In Your Presence, Used by Permission, All Rights Reserved