Daily in Your Presence - Nov. 24
Crosswalk.com

Day 329

OMNIPRESENCE


Where can I go from your Spirit?
Where can I flee from your presence?
Psalm 139:7
FROM THE FATHER'S HEART
My child, no matter how far you run from Me, you cannot escape My love or My presence. My eyes see your every action; My heart feels your every pain; My Spirit lives within you and travels wherever you go. My love will chase you down, but I will never force you to return. As long as you live, I will continue to call your name until you let Me back in as the keeper and ruler of your heart. I'm omnipresent, Child. I'm with you always.
A GRATEFUL RESPONSE
At times I may be alone, but I'm never lonely. Your Spirit surrounds me wherever I go. In the garden's sweet fragrance, on the storm-tossed sea, in the highest heavens, and beneath the deepest ocean, You are there, Lord. Your presence is inescapable. Lord, why would I ever leave the joy of Your presence? You are omnipresent—always near. Thanks for being there, Lord.
SIMPLE TRUTH
Love keeps us close to the heart of God.
For more from Rebecca, please visit www.rebeccabarlowjordan.com
Sign up for Rebecca's encouraging blog/newsletter, or purchase her newest devotional books from Zondervan
- Day-votions™ for Women, Day-votions™ for Mothers, and Day-votions™ for Grandmothers.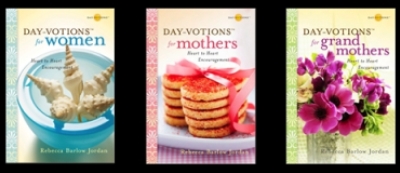 ©2002, Rebecca Barlow Jordan, Daily In Your Presence, Used by Permission, All Rights Reserved