Daily in Your Presence - Sept. 28
Crosswalk.com

Day 272

PEARL OF
GREAT PRICE


"When he found one [fine pearl] of great value,
he went away and sold everything he had and bought it."
FROM THE FATHER'S HEART
My child, most people search all of their lives for happiness. But those who look for fulfillment in Me will find a treasure far more valuable than any riches. I am the pearl of great price, the one thing you cannot do without. Some "things" may bring you temporary satisfaction, but I am the only One who can satisfy your heart.
A GRATEFUL RESPONSE
You are worth more than all the silver and gold mines of the world, all of the richest minerals, all of the wealth found in the ocean's depths. You are the pearl of great price, the discovery of a lifetime. I'm so glad I found You.
SIMPLE TRUTH
When you have Jesus, you have it all.
For more from Rebecca, please visit www.rebeccabarlowjordan.com
Sign up for Rebecca's encouraging blog/newsletter, or purchase her newest devotional books from Zondervan
- Day-votions™ for Women, Day-votions™ for Mothers, and Day-votions™ for Grandmothers.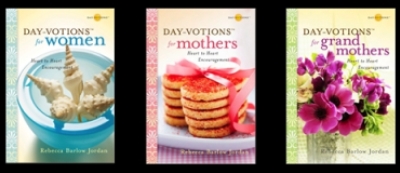 ©2002, Rebecca Barlow Jordan, Daily In Your Presence, Used by Permission, All Rights Reserved