Daily in Your Presence - Sept. 29
Crosswalk.com

Day 273

EL-SHADDAI,
THE ALL-SUFFICIENT ONE


"I am God Almighty;
walk before me and be blameless."
FROM THE FATHER'S HEART
My child, everything your heart will ever need, you will find in Me. I am sufficient for every crisis. I am enough to heal your hurts. I am El-Shaddai, a God who dreams impossible dreams—and accomplishes them through My believing children. I love to show My might and power to a disbelieving world, just like I did through Abraham and Sarah. Everything is possible with Me. Do you really believe that, My child?
A GRATEFUL RESPONSE
Like a kitten whimpering to nurse its mother, I cry out to You, El Shaddai. You are my All-Sufficient One in a world of empty dreams. You are God of the impossible. You are God Almighty, who supplies my every need. You fill me up, Lord. Where would I go if not to You?
SIMPLE TRUTH
When God designs the dream, He will also direct the course.
For more from Rebecca, please visit www.rebeccabarlowjordan.com
Sign up for Rebecca's encouraging blog/newsletter, or purchase her newest devotional books from Zondervan
- Day-votions™ for Women, Day-votions™ for Mothers, and Day-votions™ for Grandmothers.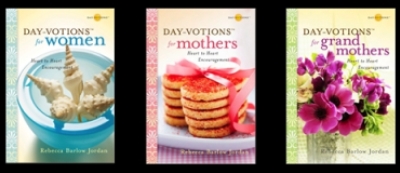 ©2002, Rebecca Barlow Jordan, Daily In Your Presence, Used by Permission, All Rights Reserved