Deepen your faith in beautiful Alaska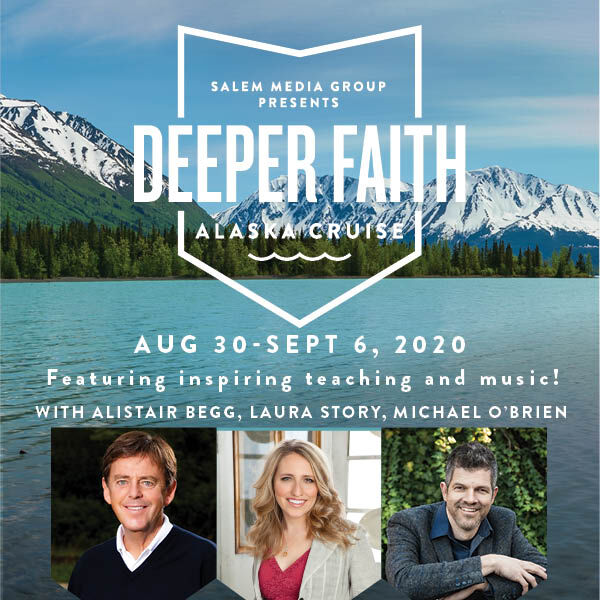 Join Alistair Begg, Laura Story, and Michael O'Brien for inspirational music and teaching on our Deeper Faith Alaska Cruise, August 30 - September 6, 2020.
What if you could only unpack once, but wake up in a new, majestic destination every morning? YOU CAN when you join us for the Deeper Faith Alaska Cruise featuring Alistair Begg, Laura Story, and Michael O'Brien.
Alaska is a spectacular place filled with glaciers, mountains, and untamed wildlife. It is a land where God's design and majesty are constantly on display. If you have ever dreamed of exploring this inspiring frontier, now is your opportunity—especially as you will experience the wonders of Alaska from the comfort of our first-class cruise ship!
Our week together will be filled with more than just awe-inspiring landscapes and quaint seaside ports. Back on the ship, prepare your heart with worship led by Laura Story and Michael O'Brien. Then, continue your spiritual experience as Alistair Begg shares from God's word. We will collectively renew our vision, purpose, and connection with Christ!
One of the unique joys of a Christian cruise is the people you will meet along the way. You will be surrounded by the fellowship of like-minded travelers, dine with new friends, and share how Christ is deepening your faith on this once-in-a-lifetime teaching and cruise experience.
Book your trip today and join us, August 30 - September 6, 2020 for an unforgettable cruise to Alaska! For more information or to reserve your space, visit the official Deeper Faith Alaska Cruise website at www.DeeperFaithCruise.com.