Daily in Your Presence - March 14
Crosswalk.com

Day 73

SECURITY

"I give them eternal life,
and they shall never perish;
no one can snatch them out of my hand."
John 10:28
FROM THE FATHER'S HEART
My child, when I adopted you into My family, you earned the name "child of God" forever. Nothing can separate the love I have for you—I will never abandon you. You will always find a safe place in My arms.
A GRATEFUL RESPONSE
How comforting, Lord, to know I am secure in Your hands! No wolf in sheep's clothing can ever snatch me away from You, Lord. Like a gentle shepherd, You know me by name and offer Your protection wherever I go. My name is written in Your book of life—You will never erase it. Thank You for Your security.
SIMPLE TRUTH
God never forgets a name; He loves each one of us just the same.
For more from Rebecca, please visit www.rebeccabarlowjordan.com
To sign up for Rebecca's new encouraging blog/newsletter, or to purchase her newest devotional books from Zondervan
- Day-votions™ for Women, Day-votions™ for Mothers, and Day-votions™ for Grandmothers -
please click here.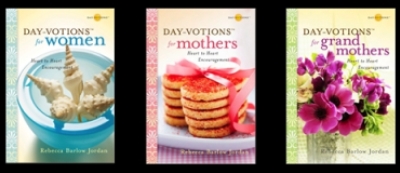 ©2002, Rebecca Barlow Jordan, Daily In Your Presence, Used by Permission, All Rights Reserved