Daily in Your Presence - March 16
Crosswalk.com

Day 75

LORD GOD OMNIPOTENT

And I heard. . .
as the voice of mighty thunderings, saying, Alleluia:
for the Lord God omnipotent reigneth.
Revelation 19:6 kjv
FROM THE FATHER'S HEART
My child, do you still doubt My ability? Question My authority? Wonder at My intentions? I do not wield My power without discretion. I am always firm and just. But when things go over your head, and the world appears in chaos, relax. I, the Lord God omnipotent, am still all powerful—and I am still on My throne.
A GRATEFUL RESPONSE
Like the sound of rushing waters, Your voice commands my attention, Your lordship demands my all. No power on earth can stand against You, Lord. One day I'll join the heavenly chorus with a shout of "Alleluia, to the Lord God omnipotent."
SIMPLE TRUTH
When God speaks— stop, look, and listen.
For more from Rebecca, please visit www.rebeccabarlowjordan.com
To sign up for Rebecca's new encouraging blog/newsletter, or to purchase her newest devotional books from Zondervan
- Day-votions™ for Women, Day-votions™ for Mothers, and Day-votions™ for Grandmothers -
please click here.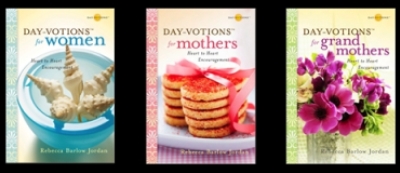 ©2002, Rebecca Barlow Jordan, Daily In Your Presence, Used by Permission, All Rights Reserved