Daily in Your Presence - March 18
Crosswalk.com

Day 77

DEW

"I will be like the dew to Israel;
he will blossom like a lily."
Hosea 14:5
FROM THE FATHER'S HEART
My child, is your life parched from the desert sun? Do you see no showers of blessing in sight? Don't worry. Whether it's raining outside or not, you can find a fresh start in Me daily. I am like the dew—ready to energize and refresh you for each day's journey.
A GRATEFUL RESPONSE
You are the fragrance of springtime. You are the life-giving mist on the dawn of each new day. And like a thirsty plant drinking in Your goodness and freshness, I am renewed by Your touch. Your youthfulness never changes. You are the fresh dew of my life.
SIMPLE TRUTH
Even the desert blooms in God's perfect time.
For more from Rebecca, please visit www.rebeccabarlowjordan.com
To sign up for Rebecca's new encouraging blog/newsletter, or to purchase her newest devotional books from Zondervan
- Day-votions™ for Women, Day-votions™ for Mothers, and Day-votions™ for Grandmothers -
please click here.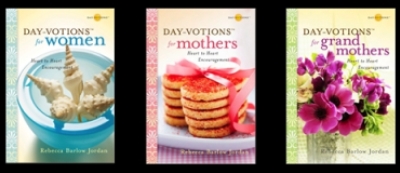 ©2002, Rebecca Barlow Jordan, Daily In Your Presence, Used by Permission, All Rights Reserved