Daily in Your Presence - March 19
Crosswalk.com

Day 78

BALM IN GILEAD

Is there no balm in Gilead?
Is there no physician there?
Jeremiah 8:22
FROM THE FATHER'S HEART
My child, why do you sometimes run and hide, licking your wounds? Did you think I would not understand, or worse, that I could not help? There is no doctor in the world who cares for you more than I do. Let My words—and My love—soothe the hurts of your heart. Whatever is troubling you, I will be your balm in Gilead.
A GRATEFUL RESPONSE
When my hurts are too deep to be spoken, and my pain seems too great to bear, You are there, Lord. Softly and tenderly, You place Your soothing ointment of love on my wounds and bandage them with Your understanding. Truly, You are my balm in Gilead.
SIMPLE TRUTH
Like a cherished quilt, God holds us close to His own heart.
For more from Rebecca, please visit www.rebeccabarlowjordan.com
To sign up for Rebecca's new encouraging blog/newsletter, or to purchase her newest devotional books from Zondervan
- Day-votions™ for Women, Day-votions™ for Mothers, and Day-votions™ for Grandmothers -
please click here.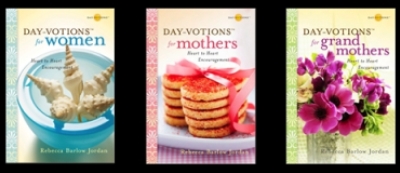 ©2002, Rebecca Barlow Jordan, Daily In Your Presence, Used by Permission, All Rights Reserved