Daily in Your Presence - March 24
Crosswalk.com

Day 83

LIVING WATER

"Indeed, the water I give him will become in him
a spring of water welling up to eternal life."
John 4:14
FROM THE FATHER'S HEART
My child, are you trying to live with a trickle instead of a stream? Open your mouth wide, and let Me fill you with My living water. How can you splash water on others when you are empty yourself? Sit a while, learn of Me, and drink deeply of My goodness. When you drink from My hand, you will never be thirsty again.
A GRATEFUL RESPONSE
One touch from You, Lord, and sweet fountains of joy spring up inside, a well of never-ending goodness and gratitude. With streams of living mercy, You erase my past, re-new the present, and re-create the future. You are the living water, Lord, that quenches my thirsty soul.
SIMPLE TRUTH
There is a river of blessing whose never ending waters wash over us daily.
For more from Rebecca, please visit www.rebeccabarlowjordan.com
To sign up for Rebecca's new encouraging blog/newsletter, or to purchase her newest devotional books from Zondervan
- Day-votions™ for Women, Day-votions™ for Mothers, and Day-votions™ for Grandmothers -
please click here.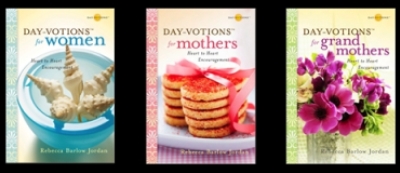 ©2002, Rebecca Barlow Jordan, Daily In Your Presence, Used by Permission, All Rights Reserved