Daily in Your Presence - March 26
Crosswalk.com

Day 85

AVAILABILITY

Yet you are near,
O Lord,
and all your commands are true.
Psalm 119:151
FROM THE FATHER'S HEART
My child, it hurts when you turn to others before you consult Me. Has My line ever been busy? Didn't I show up when your bills were due? Didn't I promise wisdom if you would just ask? Haven't I always shown My love for you? A Father loves to meet His child's needs. I'm available. Just call on My name.
A GRATEFUL RESPONSE
There is no place too far away for You to hear me. There is no distance too great for Your love to reach. Each time I call, You answer—even if Your response is "No" or "Wait a while." You are always available, always dependable, always ready to meet needs. Thank You, Lord, for Your availability.
SIMPLE TRUTH
In the emergencies of life, Jesus is always on call.
For more from Rebecca, please visit www.rebeccabarlowjordan.com
To sign up for Rebecca's new encouraging blog/newsletter, or to purchase her newest devotional books from Zondervan
- Day-votions™ for Women, Day-votions™ for Mothers, and Day-votions™ for Grandmothers -
please click here.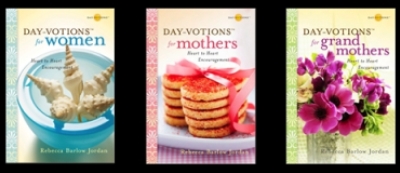 ©2002, Rebecca Barlow Jordan, Daily In Your Presence, Used by Permission, All Rights Reserved