Daily in Your Presence - March 28
Crosswalk.com

Day 87

MORNING STAR

As to a light shining in a dark place,
until the day dawns and
the morning star rises in your hearts.
2 Peter 1:19
FROM THE FATHER'S HEART
My child, have you been stargazing lately? I long for you not to wish upon a star but to embrace the full light of who I am. I long to rise up in your heart each morning like the dawn's first light and to make you shine in this dark world. Others need your light. Rise and shine, My child! Shine your light for Me.
A GRATEFUL RESPONSE
In my darkest hours, in the midnight crises of my life, You shine brightly, Lord. There can be no darkness where You are, for You are the morning star, the most brilliant light of all. No star in the heavens, no galaxy, sun, or moon, can compare to You, Lord. You light up my life.
SIMPLE TRUTH
God holds out hope like a shining star, and leads us out wherever we are.
For more from Rebecca, please visit www.rebeccabarlowjordan.com
To sign up for Rebecca's new encouraging blog/newsletter, or to purchase her newest devotional books from Zondervan
- Day-votions™ for Women, Day-votions™ for Mothers, and Day-votions™ for Grandmothers -
please click here.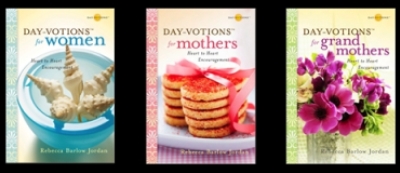 ©2002, Rebecca Barlow Jordan, Daily In Your Presence, Used by Permission, All Rights Reserved