Daily in Your Presence - Sept. 27
Crosswalk.com

Day 271

LIBERALITY


"You may ask me for anything in my name,
and I will do it."
FROM THE FATHER'S HEART
My child, giving is what I love to do. Will I give you everything you ask for? No. Did your parents? But I wait daily at your door to hear you call on My name and ask, so that your joy may be full—so you can bring glory to My Father. My liberality knows no bounds. Just look at what I did for you on the cross. Grace, mercy, and compassion are new every morning—these are but a small part of your daily "blessings box." Don't be afraid to ask, My child. I know what is best for you.
A GRATEFUL RESPONSE
Lord, I never need to beg like a dog at its owner's table. Neither do I want to misuse my inheritance to hoard up riches. You have given me Your name, an eternal credit card to use before the Father with Your blessing. Thank You for Your liberality. You have blessed me more than I could possibly deserve.
SIMPLE TRUTH
Those who come to Jesus with empty hands will leave with full hearts.
For more from Rebecca, please visit www.rebeccabarlowjordan.com
Sign up for Rebecca's encouraging blog/newsletter, or purchase her newest devotional books from Zondervan
- Day-votions™ for Women, Day-votions™ for Mothers, and Day-votions™ for Grandmothers.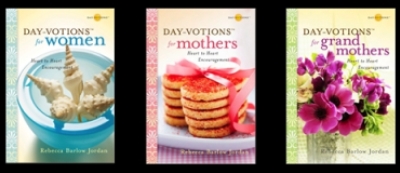 ©2002, Rebecca Barlow Jordan, Daily In Your Presence, Used by Permission, All Rights Reserved