Daily in Your Presence - Sept. 30
Crosswalk.com

Day 274

PROPHET


"Surely this is the Prophet who
is to come into the world."
FROM THE FATHER'S HEART
My child, every day is a miracle from Me. And I am constantly performing miracles in the lives of those who be-lieve. But don't be like My people in the past who believed Me only because of My miracles. They remembered the prophets of old and the amazing works I did through My servants. But I am the Prophet sent by My Father to change hearts and lives forever—just like I have changed yours. Keep believing—not because of what I do, but because of who I am.
A GRATEFUL RESPONSE
The world awaited Your coming, Your salvation, and Your message. You are the Prophet, fulfilled through Scripture since the beginning of time. When You speak, people listen because You always tell the truth. I rejoice at Your coming. I celebrate Your work in my life. My heart will never be the same again.
SIMPLE TRUTH
The true Prophet always told the truth.
For more from Rebecca, please visit www.rebeccabarlowjordan.com
Sign up for Rebecca's encouraging blog/newsletter, or purchase her newest devotional books from Zondervan
- Day-votions™ for Women, Day-votions™ for Mothers, and Day-votions™ for Grandmothers.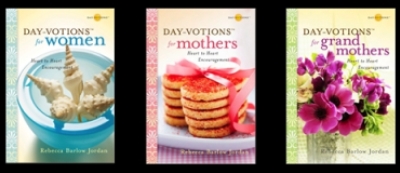 ©2002, Rebecca Barlow Jordan, Daily In Your Presence, Used by Permission, All Rights Reserved