Daily in Your Presence - March 17
Crosswalk.com

Day 76

GRACE
  "My grace is sufficient for you,
for my power is made perfect in weakness."
2 Corinthians 12:9 
FROM THE FATHER'S HEART
My child, when you're covered with the evidence of your convictions, and you're cowering in the shame of your condition, look up. I'm still here. Don't you know My grace is enough to cover all your weaknesses? As long as you think you're strong enough without Me, My grace is useless to you. I already know your faults. But it was My grace that made you My child in the beginning. And it will be My grace that will always lead you back home to Me.
A GRATEFUL RESPONSE
Just when I think I've had enough, when I've reached a solid wall, You appear on the scene, Lord—but not with condemnation, silence, or sarcasm. Instead, You are there holding out Your strong arms to encourage me, giving me grace to cover every weakness. Your grace is sufficient.
SIMPLE TRUTH
Duty demands; grace frees.
For more from Rebecca, please visit www.rebeccabarlowjordan.com
To sign up for Rebecca's new encouraging blog/newsletter, or to purchase her newest devotional books from Zondervan
- Day-votions™ for Women, Day-votions™ for Mothers, and Day-votions™ for Grandmothers - 
please click here.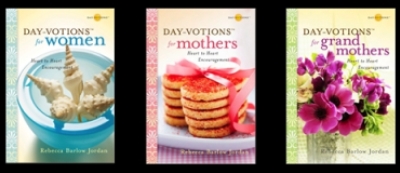 ©2002, Rebecca Barlow Jordan, Daily In Your Presence, Used by Permission, All Rights Reserved