Victorious One - Daily in Your Presence - June 6
Crosswalk.com

Day 158

VICTORIOUS ONE
The horse is made ready for the day of battle,
but victory rests with the Lord.
Proverbs 21:31 
FROM THE FATHER'S HEART
My child, sometimes you act as if you are still a prisoner of war. Perhaps you are looking for strength and victory in all the wrong places. Let Me fight your battles. The only way you will ever experience victory is when I am on your side. And I am on your side. When I fight for you, no one can stand against you. I am the victorious One.
A GRATEFUL RESPONSE
Lord, nations fill their arsenals, each hoping to surpass the other's strength in the event of war. Whether in corporate or personal battles, in life or in death, we cannot win without You, Lord. You are the victorious One. Thank You for fighting our battles.
SIMPLE TRUTH
Don't sweat the battles when the King is in command.
For more from Rebecca, please visit www.rebeccabarlowjordan.com
To sign up for Rebecca's new encouraging blog/newsletter, or to purchase her newest devotional books from Zondervan
- Day-votions™ for Women, Day-votions™ for Mothers, and Day-votions™ for Grandmothers - 
please click here.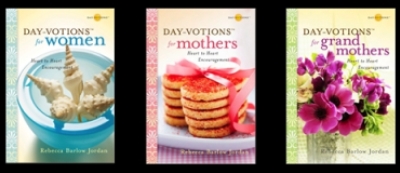 ©2002, Rebecca Barlow Jordan, Daily In Your Presence, Used by Permission, All Rights Reserved