How Do We Say Yes to God? - Your Daily Bible Verse - September 19
Crosswalk.com

BIBLE VERSE OF THE DAY: "Trust in the LORD with all your heart and lean not on your own understanding; in all your ways submit to him, and he will make your paths straight." - Proverbs 3:5-6
How Do We Say Yes to God
By Amaris Beecher

How do we say yes to God?
First, determine to say no in your mind.
"A person without self-control is like a house with its doors and windows knocked out." – Proverbs 25:28 MSG
I like how the New King James Version put it as well: "Whoever has no rule over his own spirit is like a city broken down, without walls."That word "spirit" can also mean mind. And isn't that the truth. If we can't rule our minds, then we are defenseless against the enemy's schemes. We are like a home with its doors and windows knocked in. Anyone can come in and steal and kill whatever they want. A person without the ability to control their thoughts is the exact person that the enemy will go after.
Telling yourself no means confronting the thoughts that are not from God. Thoughts of rejection, insecurity, doubt, self-doubt… these things are not from God. And if those thoughts are running rampant in our minds, we are actually telling God no! We cannot believe lies and truth at the same time. If we are accepting the lies, then we are rejecting the Truth.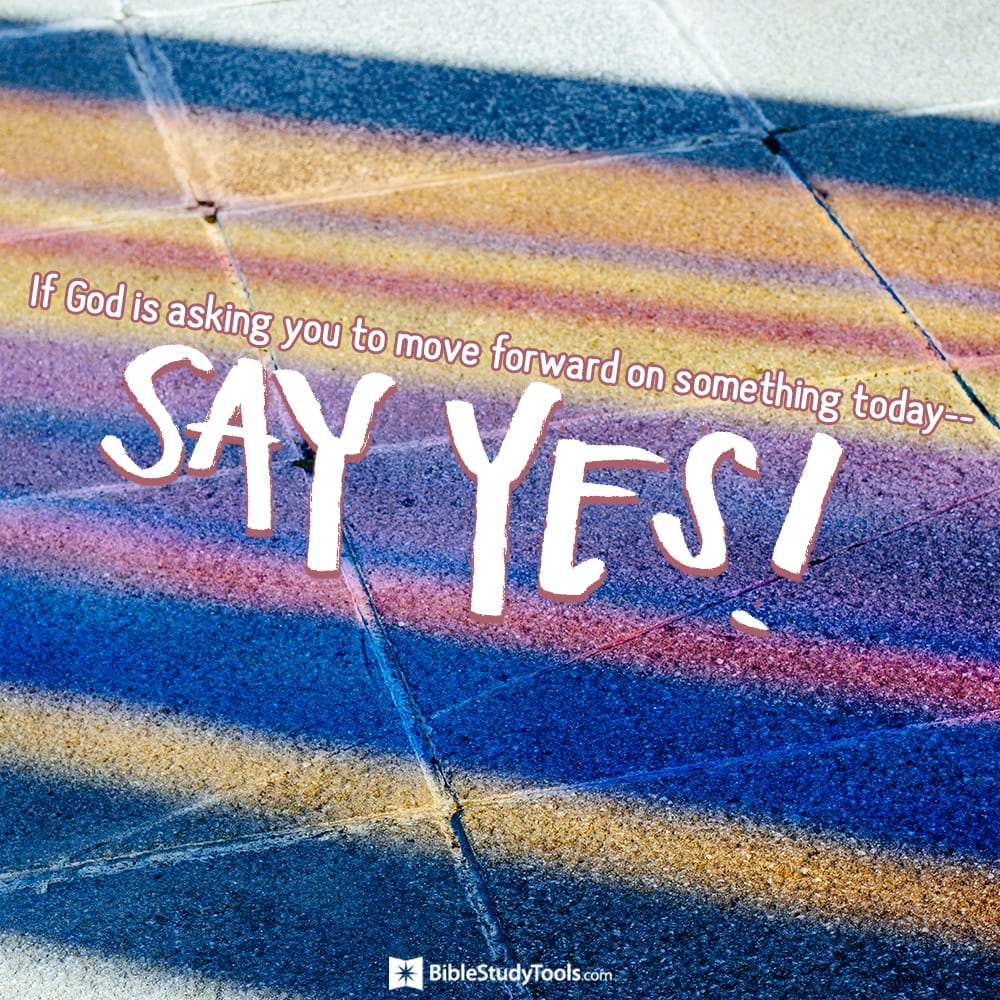 Where in your thought-life do you believe lies?
Second, have faith in God's promises.
"Now faith is confidence in what we hope for and assurance about what we do not see." - Hebrews 11:1
Saying yes to God means stepping out into the unknown; moving forward in something that you believe God is asking you to do (it's confirmed in His Word). When that young man and I broke up, I had no idea where God was going to lead me. I remember one time confessing to my pastor that I was planning to be a nun because I didn't see any men in my future. He just laughed and told me no.
If you read Hebrews 11, you'll see all those who have gone before us with faith to see things that were unseen at the time. Take Abraham for example; God asked him to leave his country and go somewhere else to establish a new covenant with Him. BY FAITH Abraham obeyed and went out even though he did not know where he was going (Hebrew 11:8-9)
Here are more verses for mediation. Do you believe God when he says these things? Do you trust that He is working all things for YOUR GOOD? That He does have a purpose in your life?
"And we know that in all things God works for the good of those who love him, who have been called according to his purpose."- Romans 8:28
 "But those who hope in the LORD will renew their strength. They will soar on wings like eagles; they will run and not grow weary, they will walk and not be faint."  - Isaiah 40:31
"When you pass through the waters, I will be with you; and when you pass through the rivers, they will not sweep over you. When you walk through the fire, you will not be burned; the flames will not set you ablaze."-Isaiah 43:2
Even our lack of faith cannot thwart God's purposes. All of the saints spoken of in Hebrews 11 were flawed humans just like us, and God still used them. Why? Because they continued to say yes to Him! They rejected the lies of the enemy and continued to trust despite their shortcomings.
This word is for us too.
This day, if God is asking you to move forward on something – say YES! How will you know if God is asking you to say yes to something? He will confirm it through His word. Do not be shy to ask for confirmation, either! Ask God to confirm what He is asking. He will do it.
Adapted from "Is It Time to Say Yes to God?" by Amaris Beecher on She is Reclaimed. See Amaris' full post here.
Amaris Beecher is founder and contributor for "She is Reclaimed;" a ministry birthed out of the pain of depression, anxiety, and insecurity. She is Reclaimed is a movement and community of women that want to encourage and empower other women to reclaim their identities for Christ. As well, Amaris is a wife, mother, disciple, and mentor to other women in Orlando, Fl! She's passionate about living a life consecrated to God, her family, deep conversations with friends, and bold lipstick. You can follow Amaris on Facebook, Instagram, and Pinterest.

Want to go beyond a minute in the Word today? Continue over to BibleStudyTools.com!