Real Life Radio with Jack Hibbs
Listen on The Mission AM 980 KKMS
Monday
1:00AM - 1:30AM, 6:30AM - 7:00AM, 10:30AM - 11:00AM
Tuesday
1:00AM - 1:30AM, 6:30AM - 7:00AM, 10:30AM - 11:00AM
Wednesday
1:00AM - 1:30AM, 6:30AM - 7:00AM, 10:30AM - 11:00AM
Thursday
1:00AM - 1:30AM, 6:30AM - 7:00AM, 10:30AM - 11:00AM
Friday
1:00AM - 1:30AM, 6:30AM - 7:00AM, 10:30AM - 11:00AM
Latest Broadcast
Stop - 2B
12/6/2021
When we get tired or worn out, we begin to think about ourselves more frequently. We drift off course, and soon lose sight of our Christian mission. But, when we stop and wait on the Lord, He will give us His strength for the work that lies ahead.
Featured Offer from Real Life Radio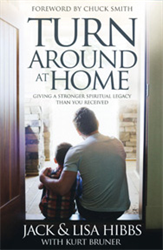 Turnaround At Home
Turnaround at Home is a guide to creating a God-honoring home for your children, regardless of the model you received as you grew up. Drawing from their own inspiring stories, Jack and Lisa Hibbs will help you understand your emotional, spiritual and social legacy. They provide biblical encouragement for creating positive marriage and parenting relationships for every season of your life. This book offers many practical ideas for becoming intentional in your marriage and as parents and grandparents. Family patterns can be renewed in your generation. Turnaround at Home will help you make changes for good, starting at home.