Daily in Your Presence - Sept. 22
Crosswalk.com

Day 266

JEHOVAH,
THE SELF-EXISTENT ONE


God also said to Moses, "I am the Lord [Jehovah]."
FROM THE FATHER'S HEART
My child, I think by now you are aware of My awesome power, My jealous nature that demands allegiance and obedience, and My holiness that cannot look upon sin. I am Jehovah, the self-existent One, the One who hung the world on its axis and gave life its beginning. But I am also the Je-hovah God who chooses to fellowship with you. My covenant is for you, My child, and all those who will choose to let Me fellowship with them. That covenant is irrevocable.
A GRATEFUL RESPONSE
All of creation looks to You for their beginnings. Before any creature walked the face of the earth, You were there, Lord. You are Jehovah, the self-existent One—the God who first initiated a covenant with man. You, Lord, are all I need.
SIMPLE TRUTH
We can never truly comprehend that an awesome, holy God could love us. We can only accept it.
For more from Rebecca, please visit www.rebeccabarlowjordan.com
To sign up for Rebecca's new encouraging blog/newsletter, or to purchase her newest devotional books from Zondervan
- Day-votions™ for Women, Day-votions™ for Mothers, and Day-votions™ for Grandmothers -
please click here.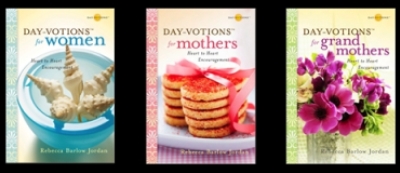 ©2002, Rebecca Barlow Jordan, Daily In Your Presence, Used by Permission, All Rights Reserved