Daily in Your Presence - Sept. 26
Crosswalk.com

Day 270

HORN OF MY SALVATION


He is my shield
and the horn of my salvation.
FROM THE FATHER'S HEART
My child, where can you find strength but in Me? Where do you look for safety but in Me, the horn of your salvation? If you trust in yourself, you will fail. If you look to others, you'll fail. Let Me surround you with My songs of deliverance. When I'm finished with your enemies, you'll feel like dancing and praising again!
A GRATEFUL RESPONSE
I am like a pebble in the shadow of Your mountain, Lord. I am but a midget, but You are the giant. You are the horn of my salvation, and in You I find anointing and power for whatever work You assign me. I praise Your strength, Lord.
SIMPLE TRUTH
Never a moment or day goes by but Jesus is always waiting nearby.
For more from Rebecca, please visit www.rebeccabarlowjordan.com
Sign up for Rebecca's encouraging blog/newsletter, or purchase her newest devotional books from Zondervan
- Day-votions™ for Women, Day-votions™ for Mothers, and Day-votions™ for Grandmothers.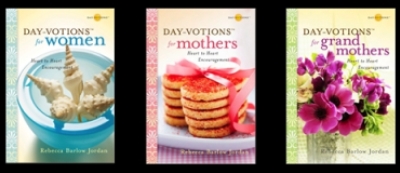 ©2002, Rebecca Barlow Jordan, Daily In Your Presence, Used by Permission, All Rights Reserved