Daily in Your Presence - Sept. 16
Crosswalk.com

Day 260

ADONAI, THE LORD


"Not everyone who says to me, 'Lord, Lord,'
will enter the kingdom of heaven,
but only he who does
the will of my Father who is in heaven."
Matthew 7:21
FROM THE FATHER'S HEART
My child, some people recognize Me only as a man, while others see Me as simply a Savior. But I long to be the blessed controller of their lives. I want to be Lord, Adonai, in every heart. When I am on the throne of your heart and home, there is peace and safety there. I will help you with all the other priorities in your life. I will help you do My will. Trust Me as your Adonai.
A GRATEFUL RESPONSE
One day with You is better than a thousand in the palaces of kings. You are my Adonai, my Lord and Master. You call my name, and a flood of joy overflows. You command my life, and a fountain of confidence takes over. You are my Lord, and I praise You today.
SIMPLE TRUTH
His lordship demands our all—nothing more, nothing less.
For more from Rebecca, please visit www.rebeccabarlowjordan.com
To sign up for Rebecca's new encouraging blog/newsletter, or to purchase her newest devotional books from Zondervan
- Day-votions™ for Women, Day-votions™ for Mothers, and Day-votions™ for Grandmothers -
please click here.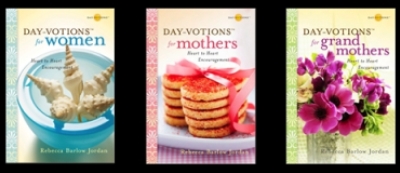 ©2002, Rebecca Barlow Jordan, Daily In Your Presence, Used by Permission, All Rights Reserved